"Be a philosopher, be a mummy … and away, above all with the body, that pitiable idée fixe of the senses! Infected with every error of logic there is, refuted, impossible even, notwithstanding it is impudent enough to behave as if it actually existed!"
Here Friedrich Nietszche mocks the longstanding Western philosophical tradition that exalts something called 'Reason' over the perpetually unreliable, fallible and deceitful 'senses.' Nietszche indicts Plato, Christian theology, and uber-positivist scientists alike of buying into and disseminating a giant moralistic LIE that there is a 'true world' that we can access, if only we can unshackle ourselves from our inferior / sinful / inaccurate bodies.
Pharmaceutical marketing is one of today's ultimate snake-oil philosopher kings. Remember the television and magazine ads for Pfizer's "antidepressant" Zoloft?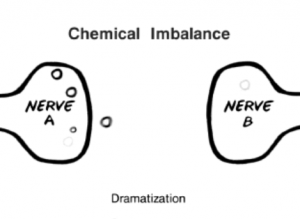 The putative "chemical imbalance" of these ubiquitous ads updates Nietzsche's complaint about moralistic, arrogant-yet-idle philosophizing as a modern-day capitalist ideology: The ad's refrain condescends, "When you know more about what's wrong, you can help make it right." This is paternalistic philosophizing, too, albeit one that hands over a deeply personal, social and culturally complicated construct like "depression" to a literally cartoonish scientific expertise, whose ultimate end-game is profit maximization.
Profit, indeed. We're talking BILLIONS of dollars (according to industry tracker IMS Health, antidepressant sales alone brought in $9b in 2009). In just over a decade, what was once a relatively unknown illness has turned into a mammoth global industry that, in a nutso Orwellian turn, has had so many people taking antidepressants that these drugs have literally ended up in our water supply.
Say wha?
Crazy. And a big reason for why antidepressants have become so commonplace is because of the massive marketing campaigns that the pharmaceutical industry has launched over the past decade, which have relied heavily on the rhetorical sway of neuroscientific language and imagery in these ads.
With this in mind, here's my critique of the psychopharmaceutical industry, in a nutshell (yes, it dawns on me that I should start using "nutshell" to refer to antidepressant pills themselves):
(1) Whether antidepressants 'work' at all is completely up for grabs
Through the Freedom of Information Act, analyses of ALL the antidepressant clinical trial data that drug companies have conducted (and not just the ones submitted to the FDA) suggest that antidepressants do not work significantly better than placebos. (For a nice review of this predicament, see Steve Silberman's 2009 Wired article.) Of course, this is a real slap to the face of the notion that antidepressants work because they target biochemically-deficient disease states. Which brings us to:
(2) Drug companies propagate mainstream, scientific explanations of how antidepressants work that are part of a contemporary capitalist ideology
That was kind of a nerdy way to put it, BUT: Do patients/consumers feel relief because their antidepressant has worked on an underlying disease pathology, as the drug ads would have us believe?
Or, do antidepressants actually induce psychoactive states, like sedation or stimulation or altered sense perception?
This not a straightforward 'objective,' 'scientific' question. This is a question about the kind of language we choose to describe what a drug does. Correcting a "chemical imbalance" sounds squarely medical and socially appropriate. "Altered sense perception" sounds too much like how we are used to talking about illicit or illegal drugs, as if their psychopharmacology were a completely different animal than what Big Pharma peddles. Of course, it's absolutely crucial that the pharmaceutical industry sounds like it is in the business of generating health and normality, not pleasure and dependency. For instance, one of the first direct-to-consumer pamphlets for Prozac claimed that, "Prozac doesn't artificially alter your mood and it is not addictive. It can only make you feel more like yourself by treating the imbalance that causes depression." What strange and preemptively defensive language … and what grandiose philosophical and epistemological claims about such a poorly-understood chemical!
Contrast how the National Institute of Drug Abuse (NIDA) describes MDMA (Ecstasy), whose pharmacology is quite similar to that of Prozac and Zoloft: "MDMA produces feelings of increased energy, euphoria, emotional warmth, and distortions in time, perception, and tactile experiences." Can we imagine Pfizer making the same claims about Zoloft? And yet, this is what individuals sometimes actually report experiencing.
Part of what makes such psychopharmaceutical claims part of a capitalist ideology is their relationship to a distinctly Western-style of consumption in which we seek out and buy commodities to fashion our own unique personal identities. We buy things to become who we were always meant to be. (For critical theory buffs, start with Jean-Paul Baudrillard's analysis of how, over the past few decades, capitalism has started to focus on the consumer — and not just the laborer — as a key site of exploitation.) Psychopharms are no different. Note the language of the above Prozac pamphlet: "It can only make you feel more like yourself …" Whereas users of illicit drugs like MDMA and LSD hail them as ways to go beyond oneself, or to explore oneself, the drug industry offers us psychopharmaceuticals as a return to our true selves. To the point, the tagline for Paxil advertisements used to be, "With the help of Paxil you can see someone you haven't seen in awhile – yourself. Hey, I remember you."
So, in this society, we consume antidepressants to fulfill our roles as outstanding consumer-citizens. But we consume marijuana or Ecstasy and become aberrant, unproductive drains on society. Which brings us to:
(3) We live in a hypocritical society that denies non-prescription self-medication while simultaneously encouraging a behemoth pharmatocracy
(First, this claim reminds us that the pharmaceutical industry does not exist in a vacuum. These companies are easy targets — and should most definitely be targeted — but we need to keep in mind that our contemporary experiences with drugs emerge from a complicated nexus of relationships between Big Pharma, government regulatory agencies, physicians, consumer groups, and beyond …)
On the one hand, the U.S. government denies individuals rights to grow, synthesize or consume psychotropic substances, whether it's marijuana, opium, LSD, or methamphetamine. (This is a topic that I will give special attention to in later blogs.) On the other hand, psychotropic drug-taking has become a cornerstone of global capitalism, as corporate pharmaceutical paternalism takes over under the guise of "health" as a cultural imperative (so much so that the drugs are ending up in the water, remember?) The very facts — or, more properly, factoids — that the State-cum-pharmaceutical-industry propagates about mental health are circular: The notion that there is a high prevalence of depression in the United States is largely based on antidepressant prescription rates. So, the more people taking antidepressants = the more people counted as suffering from depression. "Depression" becomes reified as a bonafide epidemiological entity, and the pharmaceutical industry touts growing antidepressant rates as mere evidence that they are unearthing an "undertreated" (!) illness.
The capitalist, expansionist logic of this medical system is scary. Antidepressants do not work very well; their prevalence bloats the pharmaceutical companies' and physicians' profits; and their commercial success gets reinterpreted as a medical rationale for why we should consume more and more of them.
All this makes me feel like Nietzsche looked at the end of his life:

The video cannot be shown at the moment. Please try again later.
So let's start changing the rules of this game.